Paper Towels/ Paper Roll Fully Automatic Static-Seal Shrink packaging line
SS_TYPE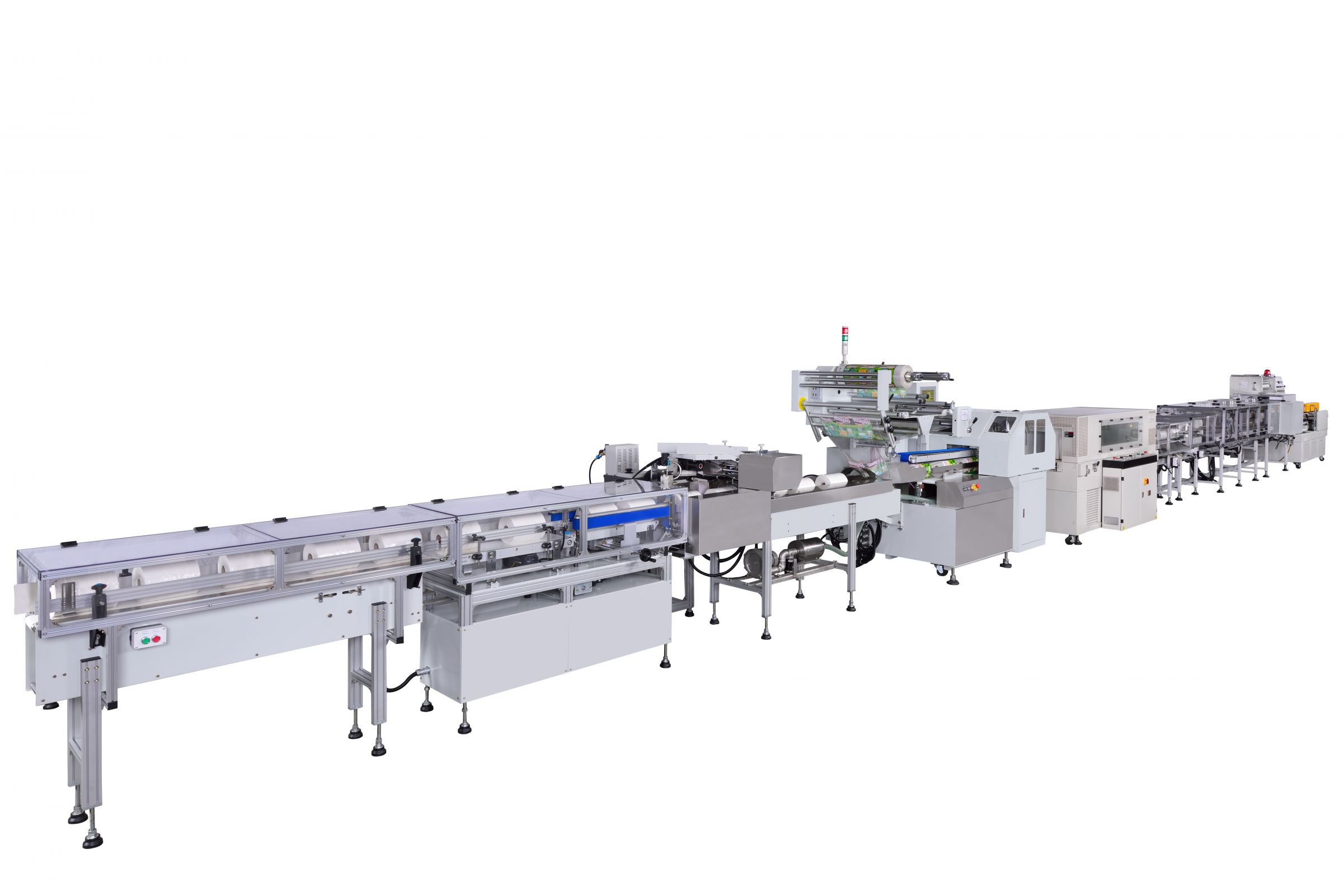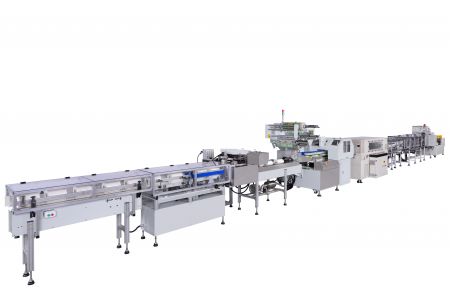 HOPAK Shrink wrapper (overlap static) is designed for high speed shrink packaging with POF film. The line is high proficiency and cost saving as less material waste and higher packaging speed. The overlap seal brings seamless fin seal which evaluate the product value.
BETTER: With overlap static seal, the product not only look better but also easy to open which can boost customer experience.
FASTER. CHEAPER: 33% less energy usage, and 58% efficiency increase.
Customize automation feeding and packaging line
Raw paper roll cut and slitting (client's)
→Smart Belt feeding (accumulating and separate into single unit via sensor)
→Hot glue spray
→High Speed friction feeder (servo motor drive, precise positioning)
→HOPAK Shrink static overlap seal Wrapper (USA SIMCO static generator)
→Hot Shrink Tunnel (high speed for single unit pouch)
→Flip up unit ( upright the paper roll)
→2nd packaging alignment (aligned into 2 lane with cylinder. Rejection arm will guide pouch no need to 2nd packed to be exit)
→Double lane (2*3) paper towels arrangement into L sealer for 2nd packaging
→Hot Shrink Tunnel (2nd package)
→Exit for cartooning
High Speed Friction Feeder
Servo driving for accurate and stable
Variable size feeding acceptable
Easy and quick set up
Features
Durable, high productivity and low-noise by 4independent servo motors with electronic control enable 24hours nonstop high speed packaging.
User-friendly human / machine interface control with 10.4inch colorful monitor and Dialogue type screen provides maximum operational convenience and is easy to learn.
Auto splicer for POF, printed film accepted
Static overlap seal without the trimming and recycled waste process. Level up the package speed and lower the material waste
Japan SMC Cylinder / Germany SICK sensor /TECO Servo Motor
Sandwich style sponge assistance belt conveyor with air-suction to precise the feeding position
No Product No Seal (No empty bag)
No Gap No Seal (Protect machine and product)
Applicable Packaging Products
Kitchen Paper Towel packaging line
Kitchen Paper Towel Turnkey Solution
Packaging Turnkey Solution
Static lap seal
Optional Accessories
Date coder.
Stainless steel machine frame.
Sheet Feeder.
CE or UL standards.
Specification
Model
SS TYPE
Speed
50 - 120 pack/min
Bag length
100 - 500 mm
Max. Film Width
(max. roll dia.)
450 or 600 mm (300 mm)
Product Width
20-120 / 50-150 / 80-230 / 110-270 (mm)
Product Height
100 mm
Videos




Press Release
Horizontal Standard Flow Wrapper (Fast Delivery )

HP-450H machine has the merit of both mechanical and digital control, product changeover easily, colored HIM for key in data also able to cope with semi-auto feeding to increase the packaging...

Read More

Horizontal Compact Flow Wrapper (Fast delivery)

HP-320F machine is entry level for flow wrapper with compact design and reasonable price, suitable for packaging product simple or similar size.
Machine in stock can be delivery with 2-4weeks...

Read More

Auto Packaging System

Automatic packaging system, reduce labor costs, productivity stable, continuing operations.

In-Line Feeder offers high speed and flexibility to the packaging line. Multiple belt conveyor...

Read More